This multi-year project was created to ultimately raise $500,000, to underwrite the immediate costs of time sensitive projects that are vital to our mission. The Fund has received initial support from the Ford Foundation, among others. In the past years, the fund has supported the following:
• At the 2006 society for American Archaeology in San Juan, Puerto Rico, Fundación Amistad sponsored the presentation of seven Cuban archaeologists' works at the annual meeting. Future Cuban participation in this meeting will help to break down the barriers to academic exchange between Cuba and the U.S. and help to forge important intellectual and social bonds.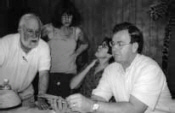 • A workshop at the Watermill Center in Watermill, New York developed the literary work, Revolution of Forms, which turned the real life events surrounding the creation of Cuba's National Arts School (Escuela Nacional de Arte), into an original opera created by Robert Wilson, Anthony Davis, Gonzalo Rubalcaba, based on the book of the same name by John Loomis. The opera featured a contemporary music score inspired by Afro-Cuban musical traditions. The timely seed-funding provided by the President's Discretionary Fund made possible a program that has progressed into a landmark work consistent with the mission of Fundación Amistad.