| | |
| --- | --- |
| Our Humanitarian Aid initiatives would not be possible without your generous donations. Please accept our deepest gratitude. | |
Network for Humanitarian Aid began as a critical response to the Cuban people's need for a variety of medical supplies, most of which are very basic. Many members of Cuba's most vulnerable population – young children, expectant mothers and the elderly – suffer from illnesses that are readily treatable with the proper medications. Unfortunately, there is scarce availability in Cuba of medicines and other supplies used to treat these illnesses. Fundación Amistad works with volunteer groups, international development organizations and commercial shipping companies to deliver these supplies to Cuba. Its collaborative agreement with the United Nations Development Program allows for the supplies to be properly received in port and delivered to the intended recipients. Fundación Amistad also receives authorizations to facilitate and monitor the shipment of donated supplies by the U.S. Departments of Commerce and Treasury.
More Fundación Amistad Humanitarian Aid Projects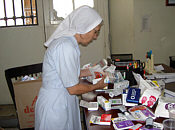 • In 2006, Fundación Amistad delivered two ship containers filled with over $800,000 worth of medical supplies to Havana and Santiago de Cuba. FA worked closely with Caritas-Cuba, the aid agency of the Cuban Catholic Church, which is the only independent aid organization allowed by the government. Another trip is already being planned to bring much-needed prosthetics and donated medical supplies this year. Please visit our Make a Donation page to see how you can help!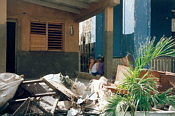 • After the devastation of Hurricane Wilma, Fundación Amistad worked closely with the United Nations Development Programme in Cuba and Critas-Cubana, to conduct a collection campaign of funds and supplies for the Hurricane Relief Effort. This ensures that those affected by the hurricanes and other natural disasters will receive vital supplies in the future.