Our Gals in Havana:
Here is the challenge: How to describe a trip and a place that defy simple characterization. (And how to avoid being just another mundane travelogue!)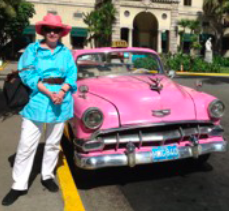 Some aspects are easy.
Who: Beverly Kazickas, Cindy Pool, Margaret Sullivan, Ellen White, me, two non-GCA friends and the Gentle Organizer of our People-to-People visit, Luly Duke.
When: February 25 to March 2, 2013.
Where we went: Where didn't we go? We toured, we ate, we partied, we sang, we danced, a few mojitos were had, we walked and walked and walked when we weren't being bussed and bussed and bussed.
Interesting fact: Everywhere we went, we were told that we were the first all-woman group anyone had seen. Hooray for us!
I asked my fellow travelers to describe their experience. Beverly said: "How can something so wonderful be so difficult to express?"
From Cindy: "Cuba seems to be a country on the verge of tremendous change-and yet I feel much of it should never change."
I, too, have trouble puQing Cuba thoughts together, so I will rely on the words of Winston Churchill: "It is a riddle wrapped in a mystery inside an enigma." He was describing Russia, but it applies to Cuba, as well.
We flew into the airport at Cienfuegos. We were greeted by a lovely young woman bearing the placard "Garden Group." She was Cynthia Carmona Suarez, our guide for the next five days. Cynthia was a staunch defender of Communism and the Castro brothers, albeit one who was paid in Yankee dollars and had been allowed to travel outside of Cuba for an extended period. She was smart and a real learner. We perceived early in our travels some hesitations in her ideology. On one hand, there was the Cynthia who summed up the Cuban Missile Crisis thus: Russia had to come to protect Cuba from America. But on the day that Cynthia raced down the stairs of our bus to beat some German tourists into the La Terraza restaurant to grab Hemingway's special table, we realized we had a New Yorker on our hands!
I am not being original when I point out that Cuba stood still in the 'Sixties. Beautiful scenic landscapes from farms to sea to mountains are dotted with giant billboards proclaiming "Viva La Revolution!" and extolling Fidel, Che, and friends. In Havana, 'Fifties and 'Sixties Chevys, painted in every imaginable bright color, cart the tourists. Cuba has two currencies: the Cuban Peso, which is the currency of the people and virtually worthless, and the Cuban Convertible Peso, or CUC, the currency of a privileged few, and of tourists. The Chevy drivers are paid in dollars or CUCs. A cab driver in Cuba earns more than a doctor.
There is spectacular architecture, much of it sadly descending into rubble. When he took power, Castro gave to the people the mansions of the fleeing rich, but the people can't afford the upkeep. The unemployment rate is stratospheric, and the U.S. embargo has taken its toll. Recently the government, with the help of other countries, has been setting aside funds for restoration, but it may be too late to save many architectural treasures. Cultural attractions, on the other hand, seem beautifully kept. Castro is not dumb.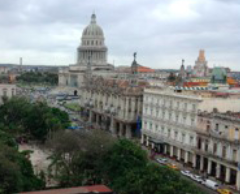 Luly made sure that every day was action-packed. We started early and ended late. In Cienfuegos, we traveled to Trinidad, a World Heritage UNESCO site, to walk the historic neighborhoods. Good GCEH gals that we are, we hiked the Jardin Botanico Nacional de Cienfuegos with its gorgeous collection of palm trees. Along the way we passed Sugar Mills Valley, though most of the sugar mills are gone. We lunched at Casa del Hacendado, followed by a five-hour (!) bus ride to Havana.
Turn-around time was not a concept. Upon arrival in Havana, we hurriedly checked into the wonderful Parque Central Hotel, then quickly moved on to dinner at a seaside restaurant overlooking the Morro Castle, a scary-looking fortress built in 1589 looming high above the harbor. There we met Michael Connors, author of several books on architecture, with architecture in lovely warm places a specialty. His book Splendor of Cuba was a best seller. He was a colorful character, to be sure. His knowledge of Cuba, its people, its politics and its architecture was prolific, but he was also steeped in where to find the best late-night jazz in town!  Or referring to a club where one could bust some moves on a mambo.
The following morning, Wednesday, we visited city planner Miguel Coyula and his extraordinary scale replica of all 144 square kilometers of Havana, depicting every detail from buildings made out of cedar wood to exactly positioned trees, lamp posts and traffic lights. Then, accompanied by Dr. Isabel Rigol, architect and professor, we toured the neighborhoods of Havana. We had lunch in a private room at Club Habana, previously the Havana-Biltmore Yacht and Country Club. One of my favorite moments occurred there. As at every lunch and every dinner, there was a band. A sweet young waiter served us. At one point he left our seemingly calm room, only to return to a place that had erupted into wild-and-crazy dancing. The expression on his face was priceless: absolute abject fight-or-flight panic. But then the biggest grin spread across his face! One can only imagine what he was thinking! Some of us were coerced into singing with the band. We won't say who. What happens in Havana stays in Havana.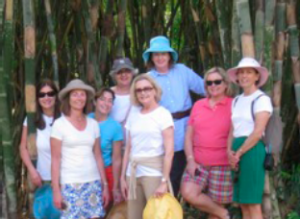 That afternoon we had a walking lecture with Michael Connors of the Old Havana Historic District and its four Plazas. With no rest for the weary, it was on to dinner at La Guarida Paladar, a great restaurant on the third floor of a sketchy run-down tenement.
The following day we visited Finca Vigia, Hemingway's house, at the top of the small workingclass village of San Francisco de Paula. His property was anything but working class. His house was left as if he had just stepped out for a daiquiri, the grounds and the views were gorgeous, the pool a Hollywood set. The boat The Pilar, of The Old Man and the Sea fame, is on display. Lunch was at the aforementioned La Terraza, in the fishing village of Cojimar, inspiration for The Old Man and the Sea. And yes, Cynthia had secured us Papa's very own corner table.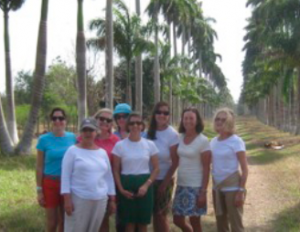 Later we took a ferryboat ride across Havana Harbor. The boat was full of local working people, who looked on in curious silence as Cynthia took our picture. I asked Cynthia to ask the other passengers if they would like to be in a picture with us. The reaction was
instant: It was a stampede as in a Colombian coffee ad! They posed eagerly. Everyone laughed through the rest of the journey. Everywhere we went, we found only kindness, acceptance and humor from the Cuban people. And everywhere we went we found abundant laughter.
On our last full day—aka Margaret's birthday—we visited the Soroa Orchid Garden and rode up a mountain through a tropical rain-soaked jungle to lunch with yes, musicians, who serenaded Margaret on her birthday. The lead singer was rewarded with a hug.
Our farewell dinner was at La Cocina de Liliam, a restaurant run out of a private home. We sat on a covered porch set up from glorious gardens and ate wonderful food as the rain pelted down just feet away. There the lone musician strayed from the Cuban sounds and indulged in a little Adele!
There is much more to tell, about a house, now museum, whose possessions reflect one man's
obsession with all things Napoleon. The ceramic museum was fascinating. So was the arts school house in a former country club. But I fear I have already crossed the line into travel bore.
So I would advise, don't take my word for it, visit Cuba! Luly planned a magical trip. We were the beneficiaries of not just her knowledge of her native country, but of the relationships she has forged over the years. We were introduced to a wonderful collection of her special friends, new and old, including an American woman who married a Cuban decades ago in Paris and then returned with him to Cuba after the Revolution. She described the struggles of daily life. An older woman—recently widowed-refused to leave her extraordinary home when Castro took power, so she carries on there as the house deteriorates around her.
We returned home with hundreds of photos and thousands of memories. But still, Cuba remains an enigma.
Gigi Mahon